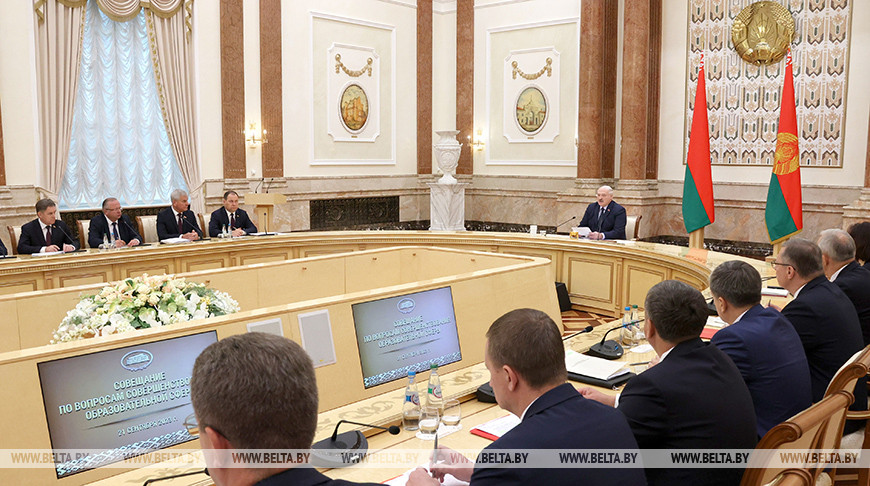 Lukashenko okays production of Belarusian movie about teachers
Producing a Belarusian movie about teachers is a good idea. Belarus President Aleksandr Lukashenko made the relevant statement during the government conference held on 21 September to discuss ways to improve the education system, BelTA has learned.
Director of Minsk's secondary school No.73 Irina Rodik talked about how the school tries to enable all the conditions for young specialists to keep working in the school and in this profession.
Irina Rodik said: "All kinds of support are important here: instructional, psychological, financial, and moral support. In my opinion, today we could do with a live image of a hardworking pedagogue. I would like parents of our students to see and understand the life of teachers with the daily cares, teachers, who do their jobs with due diligence and with love every day."
The school director suggested that social advertising, promotional videos, and possibly a Belarusian movie made to popularize the pedagogue profession may help create an image of the pedagogue everyone can understand and relate to.
Aleksandr Lukashenko remarked: "So make this film then. The movie [On the Other Bank] was made ahead of People's Unity Day. I've watched it, too. Well, it is not ideal. Above the average. But it is a movie. It already tells us something."
Speaking about making a movie about teachers, the head of state said: "We will give you money for it but teachers should make it. Movie professionals are going to be filming while you will have to call the shots. Without embellishing. Otherwise, people will refuse to watch it. You are right. Not only teachers. We have to portray other categories of our workers from the positive angle, too."
Aleksandr Lukashenko complained that many modern movies, including foreign ones, which are available for viewing in Belarus, often focus on "killing, knifing, and raping".